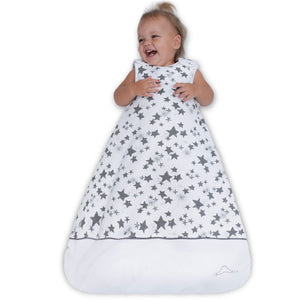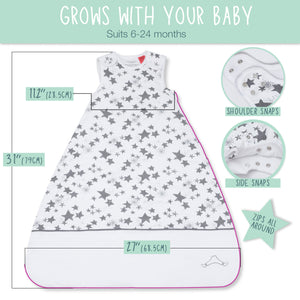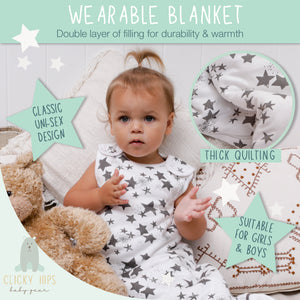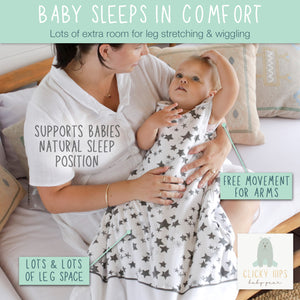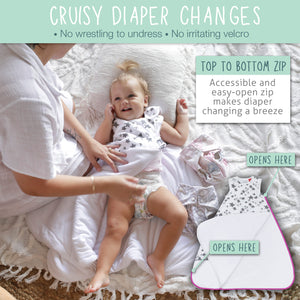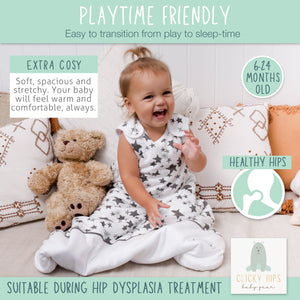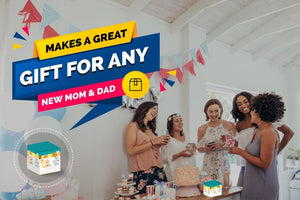 THE PERFECT SLEEP SACK: Make sure your baby is comfortable and safe in their crib with this Baby Sleeping Bag from Clickyhips! Designed to provide a feeling of security to help soothe babies, this infant cotton sleepsack is ideal for boys and girls 6 to 24 months old. Your child will be the perfect temperature and always comfy with this sleep sack. It is the perfect infant swaddle transition, when transitioning baby to arms out.

SOFT AND WARM: Our infant sleeping bag is designed with 100% organic cotton that is GOTS-certified, so you don't have to worry about harmful chemicals. It is super soft on delicate skin, and won't cause irritation! This sleep sack is designed with a double layer filled with polyester for superior durability and warmth throughout fall and winter. It is the warmest sleep sack. It acts as a baby wearable blanket so your baby wont get cold during the night when they are moving around in the crib.

ADORABLE AND SIMPLE: This exclusive sleeveless arms sleep sack for baby features a classic, unisex design that is perfect for boys and girls. Charcoal grey stars overlay a white canvas that will have any toddler or infant drifting off to sleep in no time. Plus, this is a convenient wearable blanket, so no loose blanket will cover your baby's face while sleeping. Your baby will be self soothing with this arms out sleep sack.

EXCEPTIONAL: With two rows of snaps on the shoulders and armholes, this sleeping bag can be used for children from 6 to 24 months. The snaps ensure a tighter, more snug fit on smaller babies, but as your son or daughter grows, you can adjust the sleep sack to make sure they are always getting a good night's sleep!

KEEP YOUR BABY COMFY: Designed to be extra-wide from the hips down to promote healthy hips and not restrict movement, it allows for babies that move around in their crib at night with no need to worry about them getting cold with loose blankets, our sleeping sacks for infants can be used for babies undergoing hip dysplasia treatment. This includes children in a pavlik harness, rhino brace, or spica cast. There is also a 2-way YKK zipper to allow for easy diaper changes.
Sleep sack with arms up for babies to let them sleep comfortably.
Babies like to throw their hands up while sleeping, and our organic sleeping sack lets them do that with ease. Clickyhips Clothing presents an organic cotton sleep sack designed to help your baby rest appropriately at nigh
Our best infant sleep sacks snuggle your baby as well as allow them to move their hands easily whenever they want to. This sleep sack is for newborn babies of 0-6 months old.
The idea of buying the best newborn sleep slack is simple: to provide a sung feeling, comfort, and security.
Promote Safe Sleep With the Best Infant Sleep Slacks

Better Sleep
We have designed our sleep sack in such a way that it promotes better sleep. The swaddle has arms allowing your child to put their arms up whenever needed to ensure best comfort at all times . The arms up sleep sack lets your baby sleep in a natural position.

Versatile
This is one of the best newborn sleeping bags and is truly versatile. You can use it as a sleeping swaddle sack, and when your child starts to grow and needs more movement space, you can also transform the swaddle to arms out one-by-one.

Organic Cotton
We know what your baby needs, and that's why we have the best infant sleep sack made of organic cotton. We care for your baby as much as you do. The sleep sack is free from zips and Velcro on the arms, ensuring that your beloved baby is protected from irritations.
Wide and Large
Along with the swaddle arms up feature, our sleep sacks also provide enough room for the baby's lower body movements. As babies grow quickly, our sleep sacks are progressively designed to make sure that they provide utmost comfort to the baby as need arises.

Why Buy the Best Organic Sleeping Sack?
Babies need high attention and great care. This is when our sleep sacks will be right at your rescue. They are designed to keep your child warm and cozy even during chilly winter nights. Our newborn sleep sacks are also perfect for babies who have a habit of kicking while they're asleep.
A sleeping sack lets a baby transition from a bassinet to a cot comfortably. Since the sleeping bag enables the baby to sleep naturally, the transition is less daunting. Just let them cuddle up in the sleeping sack and watch them sleep peacefully.
Buy the Best Organic Cotton Sleep Sack!
A sleeping sack meets your baby sleeping requirements adequately. So, buy the best organic sleep sack from Clickyhips Clothing. And if you have any queries and want to know more about our sleep sacks, don't hesitate to contact us.
Good quality
The sleeping sac is a really good quality! Soft and warm.Customer service is excellent!It could be a bit wider in the chest area to fit the harness.
great quality!
The sack is so soft and very good quality. Lots of leg room and hopefully will last us for awhile. Got it for my 6 month old as we grew out of all the other sleep sacks.
Brand Loyalty paid off with another amazing sleep sack!
I bought this next size up when the 0-6 size version of this sleep sack no longer fit my oldest. I continue to appreciate the massive amount of legroom, as did my little boy who immediately took to (hilariously) falling asleep bent in half, with his legs splayed and his feet near his ears.I loved the side and shoulder snaps that allow the size to be super adjustable and the second zipper that opens up from the bottom was super helpful!In fact, I sort of wish they had a second zipper like that for the smaller size to help with late night diaper changes to keep most of the warmth in.
Baby sleeps in peace
Its been 3 days since my baby started using the sleep sack. she has been sleeping continuously than before. the material is so soft and smooth. Smells like good cotton and easy to put on and off. Wish there were more patterns and colors.