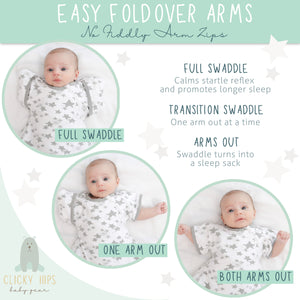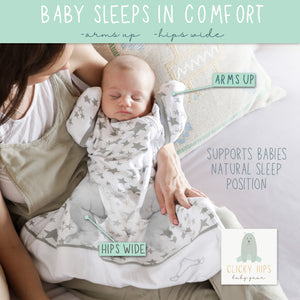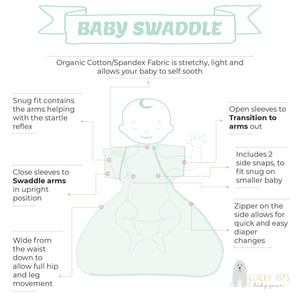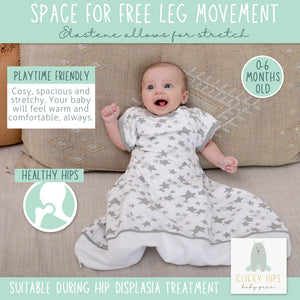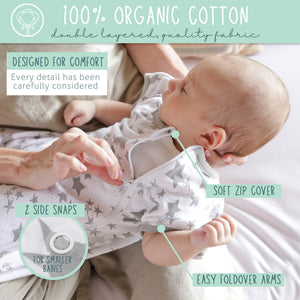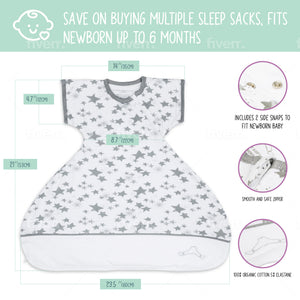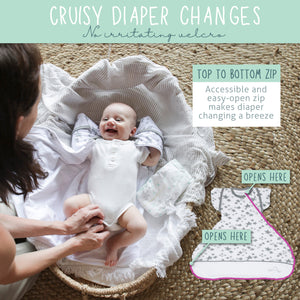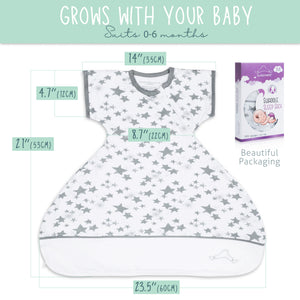 KEEP YOUR BABIES ARMS IN NATURAL POSITION: 

Our uniquely designed patented baby swaddle promotes longer sleep. This arms up swaddle to sleep sack allows your baby to self soothe and keep their arms up in their preferred natural position. It calms the startle reflex, while encouraging back sleeping

HEALHTY HAPPY BABIES; Have you noticed how your baby is comfortable with their legs in a natural spread position? Our swaddle is like a wearable blanket and is wide and large from the waist down to promote healthy hips and ensure your baby is comfortable. When your baby sleeps soundly, so do you!

QUALITY ORGANIC COTTON: Our organic swaddle sack has a double layer of super soft all natural cotton for extra durability and perfect for babies sensitive skin. Our cotton swaddle sleep sack does not include velcro or zips on the arms to ensure no irritation is caused to your babies arms or hands

EXCEPTIONAL TRANSITION SWADDLE: The most versatile baby sleep swaddle sack on the market. Not just a newborn swaddle sack, but when your baby begins to show signs of rolling, you can start to transition your baby to arms out, one at a time, to let them get familiar with the arms out position

GET THE SLEEP YOU AND YOUR BABY DESERVE: 95% Organic Cotton, 5% Elastane, Size Newborns to 6 months, 1.0 tog rating, Includes two (2) side snaps so it can fit snug on smaller newborn babies, Includes side YKK zipper to allow for easy diaper changes. Made in India

If you have a newborn, you know how difficult it can be to get them to sleep and stay asleep. We make an arms up swaddle to fit newborn upto 6 months to help establish a bedtime routine to let your beautiful child sleep peacefully.
Our arms up swaddle fits newborn to 6 months and our transition sleep sack is suitable for babies who are 6-24 months old. These best infant swaddle sacks are made of organic cotton and the perfect sleeping bag that allows your baby to move their arms and legs comfortably.
We have designed our swaddle sack with arms up in such a way that it keep your child warm during the night It acts as a wearable blanket when your child is moving during the night without becoming lose. Our swaddle sacks provide adequate warmth and comfort which signal the baby that it is sleeping time!
Our arms up swaddle sack provides plenty of room for your child to stretch their legs and fall into their natural position. The swaddle sack also includes a 2-way zipper letting parents change diapers quickly. If you want your child to sleep comfortably, get our arms up swaddle sack.
Organic Swaddle Sack- Safe for the Delicate Skin

Safe Sleep
Our swaddle sack is a wearable blanket, so you don't need to worry about loose blankets in the crib. Once your baby shows signs of rolling, you can transition your baby to arms out in the one sleep sack, allowing one arm in and one arm out at the one time. Our organic swaddle sack keeps your infant well-protected, making sure that they sleep perfectly.
Soft and Warm
We believe in providing the best for your baby. We use GOTS-certified 100% organic cotton to design our swaddle sack. For cold weather, the double-layer swaddle sack will snuggle your baby, keeping them warm. So, you don't have to worry about your child kicking the blanket in winter.
Adorable Prints
This swaddle with hands up features adorable charcoal grey stars. The unisex design makes the swaddle a perfect choice for baby boys and girls. Just help them wear the organic swaddle sack at night and watch them sleep comfortably.
Spacious
We have added ample room from the waist down so that the baby doesn't feel restricted leg movements. For healthy hips and legs, space is required, and that's precisely what our organic sleeping sack provides.
Buy Exceptional Quality Swaddle with Hands Up
A growing baby needs the best quality sleeping sack. The snuggly fit of the sleeping sack, along with the space added from the waist down, will let your child move freely. In addition, with this warm sleeping sack, you will never have to worry about cold days.
The zipper guard will keep your child protected inside the sleeping sack. So, go on and shop for the best swaddle sack from Clickyhips Clothing today.



Everything I've Ever Wanted
This sleep sack is brilliant and has every feature I've ever wanted in a sleep sack! Lightweight for summer use, adjustable via snaps, open feet or closed, zippers from both ends, space for leg movement, arms out or in while still allowing baby freedom to move. Worth every penny & high quality fabric to boot. I wish I would have discovered this sooner! My babe loved it.
0-6 months
Got the 0-6m great invention but runs small and shrinks in wash - would recommend going next size up - little one 2m and already out grew the 0-6m
Amazing for babies who want to sleep with their hands above their head
Our baby struggled with swaddles, because he likes to sleep with his hands above his head. This allowed my husband to get a full nights sleep; he woke up the first night and said "order 30 of them".
Worked great with a rhino brace!
Bought this for my daughter with HD while she was in a rhino brace. She fit perfectly and it seemed to help her go to sleep faster!
Great material
I haven't had the chance to use this yet because my baby is still obsessed with the Merlin (we're working on transitioning out of it). She just got her Pavlik harness for hip dysplasia so I wanted this on hand just in case. It is thick and so soft! Very good quality.