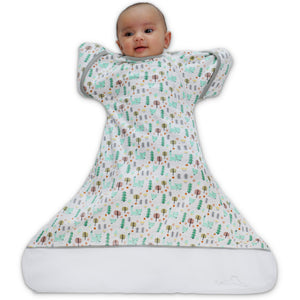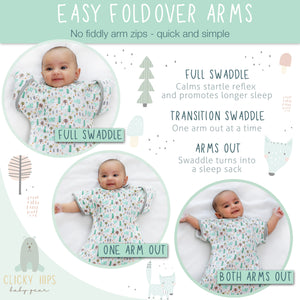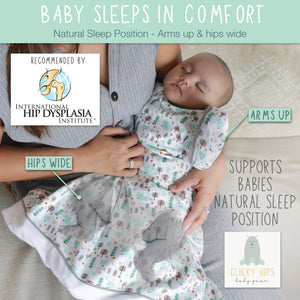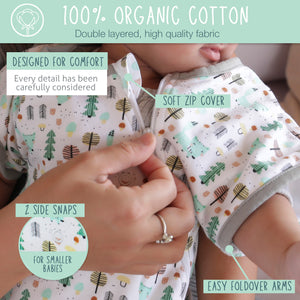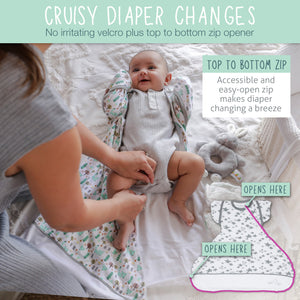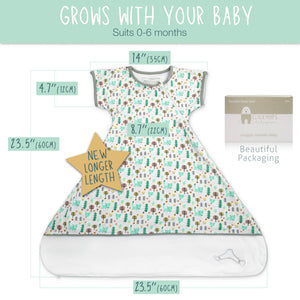 PROMOTES LONGER SLEEP: Arms Up Swaddle Sleep Sack. Our uniquely designed, patented swaddle promotes longer sleep. This arms up swaddle to sleep sack allows your baby to self soothe and keep their arms up in their preferred natural position. It calms the startle reflex, while encouraging back sleeping
TRANSITION SWADDLE FOR 0-6 MONTHS: The most versatile baby sleep swaddle sack on the market. Not just a newborn swaddle sack, but when your baby begins to show signs of rolling over, you can start to transition your baby to arms out, one sleeve at a time, to let them get familiar with the arms free position. It is the only baby transition swaddle you need
EASY DIAPER CHANGE: Side zipper for easy diaper changes in the middle of the night. It has a double layer of super soft all natural cotton for extra durability and perfect for babies sensitive skin. Our cotton swaddle sleep sack does not include velcro or zips on the arms to ensure no irritation is caused to your babies arms or hands.
HEALTHY HIP DEVELOPMENT: Have you noticed how your baby is comfortable with their legs in a natural spread position? or if you have a baby like ours with hip dysplasia. Our swaddle is like a wearable blanket and is extra wide from the waist down to promote full hip and leg movement and to ensure your baby is comfortable. IHDI recognizes our Swaddle as a 'hip-healthy' product. When your baby sleeps soundly, so do you! 
QUALITY ORGANIC COTTON: 95% Organic Cotton, 5% Elastane, Size Newborns to 6 months, 1.0 tog rating, Includes two (2) side snaps so it can fit snug on smaller newborn babies, Includes side YKK zipper to allow for easy diaper changes. Made in India
Have not received the item
Unfortunately the swaddle sack item has not been delivered. We have sent two emails inquiring about the delivery without a response. I imagine it is a good product and it would be great for the baby but the customer service is challenging. The last tracking notification was on June 24th and it is July 8th…
I appreciate a response.
Great soft thick pattern!
I love this sleep sac, it has soft fabric and it's thick keeps baby warm during the winter cold nights. baby seems to love it as well. She sleeps great!